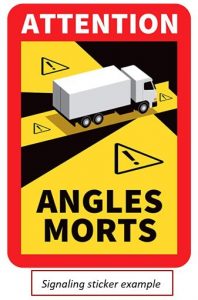 A new decree entered into force in France as from 1 January 2021 which requires Heavy Goods Vehicles whose authorized total weight exceeds 3.5 tons to be equipped with warning stickers to signal the position of blind spots to other road users (see above picture.)
This obligation applies to these vehicles travelling in an urban environment (so far we have not seen a published definition for 'urban environment'.) Non-compliance with the rule will result in a 4th class penalty fine (€135 – which can be decreased or increased, associated with a loss of 1 to 6 points on the driving licence.) These rules have been implemented to increase the protection of vulnerable road users (pedestrians, cyclists etc.) and to reduce the high number of road accidents in France. The Decree including article R. 313-32-1 on Heavy Good Vehicles, has been published in French only and it is available here.
In order to allow operators to comply with these new rules a 12 month transition period has been agreed (see the FNTR website) during which grace period it will be acceptable to have any visual indication of the presence of blind spots if the official stickers are not available.
Regarding the official stickers, they must be visible on the sides as well as the rear of the vehicle but so far detailed instructions regarding how and where to fix them have not been published. However, ECG is monitoring the situation and will inform our members as soon as details are available.
To conclude, starting from 1 January 2021 trucks operating in France will need to make sure they have either the official stickers or some other devices signaling the presence of blind spots in order to avoid incurring penalties.
The official stickers are available from various sources of which you may find two here or here.
Rolfo has published an explanatory and visual document on how to fix the blind spot stickers to vehicle transporters.